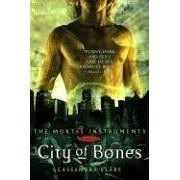 Reading level:
Young Adult

City Of Bones -
Clary Fray is your average teenage girl, arguments with her mother, staying out too late and a best friend who is in love with her--but she is too blind to see it. That all changes when Clary and her best friend visit the club Pandemonium.
At Pandemonium, Clary is witness of a murder, a murder that only she can see. Her world is turned upside down as she is thrown into a world of Shadowhunters, Demons & werewolves--and a missing mother. She must now join forces with three Shadowhunters her age (Jace, Alec, and Isabelle) to save her missing mother and herself.
But can Clary unlock the secrets hidden away in her mind before it is too late? This action packed novel keeps the reader itching for more--twist and turns when they are least expected.
The reader will be left begging for more at the end. The characters are very likeable and we each can compare ourselves to them--even if the comparison is small. There is a each of everyone in the book.
This book shows that YA Fantasy is still alive and well. This is Cassandra Clare's first novel and surely will not be her last. Keep your eyes out for the next Mortal Instruments book!!
***
Buy:

You can find CoB on
Amazon
& In most bookstores!
On The Web:

Cassandra's Personal Website
The Mortal Instruments Website