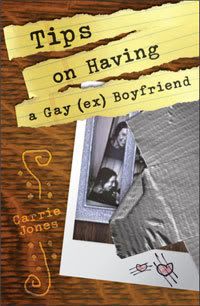 Tips on Having a Gay (ex) Boyfriend
By: Carrie Jones
Belle is your normal high school girl. She has a wonderful boyfriend, great friends and the jocks always have a go at her. That is until the perfect boyfriend tells Belle he is gay.
Bell has to cope with the whole school finding out, and look back at her life with Dylan. Was she the only one who did not realize he was gay? As much as she wants to hate him she loves him even more. Living in a small town can be horrible if you are gay, can Belle save Dylan before it is too Late?
Jones weaves a believable cast of characters, which allows the reader to easily connect to the book. Fantasy used to be the major reading craze. Jones is breaking that tradition with this well written novel. Teens alike will gobble up this real life issue book.
******
Buy:
You can find Tips on Having A Gay (ex) Boyfriend on Amazon.
On The Web: