Listen, Devyn, I've thought very seriously about this, and I've decided that what you need for your
19th birthday
is a gypsy.
I am not talking about some hip swaying Esmeralda here. No, I mean a real live Romanian homeless woman in a
long skirt
and kerchief. Gray hair, lined face, the works.
Don't worry, I got you a book. But this massive failure on my part to procure you a birthday gypsy should by no means discourage you from going out to get one yourself.
Let me tell you a little story about my friend Parker, who got a gypsy for his birthday.
This whole thing happened a few weeks ago. It was a barbecue in some random park in
Copenhagen
. So there I was, in
Denmark
, at a party with two-dozen drunken Danish hipsters and two barbecues full of sausages, when a gypsy came out of the freaking woods.
Yes, really.
She had this bag of raw chicken, which she showed to Parker. And then she asked if she could use our barbecue.
I am not going to tell you exactly how drunk everyone was at this point of the barbecue, but suffice to say that inviting the gypsy to join us suddenly seemed like the Best. Idea. Ever.
We made space for her chicken on the grill, let her use our cutlery and offered her a beer. And what had been a pretty mundane party suddenly turned into an awesome one.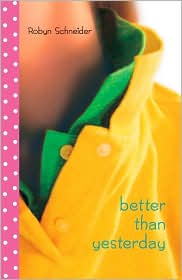 I learned an important life lesson that night in Denmark, three beers and two sausages after the gypsy disappeared back into the woods: Giving to those who are less fortunate is the best present in the world.
Yeah, just kidding. What I really learned was this: To make anything more awesome, add a gypsy.
HAPPY BIRTHDAY!
-Robyn
ALSO, FREE THINGS!
I am going to give one of Devyn's blog readers a signed copy of the paperback of Better Than Yesterday, which is a book that I wrote mostly when I was 19. Here's how to win it:
TELL DEVYN'S FORTUNE. Leave this fortune in the comments. It can be as true or as hysterically false as you'd like. I'll randomly pick a winner from the comments on Monday at noon EST.
DEVYN'S NOTE: BE SURE TO LEAVE YOUR E-MAIL!